Overview • Galleries (See Galleries) • Monthly Themes • Field Trips • Speakers • Projects
---
Photography Club Overview
— By Dave Talaber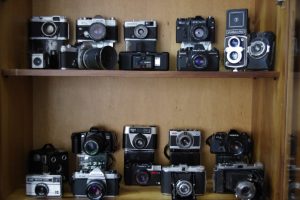 This is a club for OLLI members who are curious about or have a genuine love for photography – the best of all possible hobbies!
Throughout the month you will have the opportunity to meet with others who share your curiosity and passion. Together we not only share information but participate in varied activities to help us be better photographers. The Photography Club is not just for photo geeks – we welcome all members, whether you are a newbie or have years of experience. Anyone can join!
Photography (and by extension, our club) is accessible in ways that most hobbies simply aren't. It doesn't matter if you're talented. It doesn't matter if you're rich or not-so-rich, where you live, where you come from, who your parents were. If you're a very serious enthusiast with a massive disposable income, by all means use a fancy DSLR – but don't be surprised if many of your fellow members take great photos with their smart phones! There are no rules dictating that you must shoot, how you must shoot, where, or when, or for whom. You can shoot whatever subject you want with whatever camera you've got. And all that matters is you're having fun.
Our meetings are held at Tallwood. On the second Friday of the month we meet at 9:30 am for a varied program which includes selecting a Photo of the Month (published in the OLLI e-News!) from entries submitted by club members. We also host a guest speaker from the wider photographic community who will present varied and informative topics for your enjoyment and education. After the meeting we reassemble at a local restaurant for an optional lunch where conversation usually revolves around, what else? Photography!
On the third Friday of the month we meet up early in the morning and head out for a field trip to an event or attraction in the local area. Make sure to wear comfortable walking shoes and be prepared for a fun day out and about!
On the fourth Friday of the month we meet at noon and have a varied agenda consisting of a peer review and critique of member photos, question and answer sessions, member presentations, and any other photo related topic of interest to the members.
Also, throughout the year members of the Photography Club exhibit their images not only at Tallwood, but at other venues in the area.
We sincerely hope that you will consider joining us so we may inform, and hopefully, inspire each other.
Coordinators: John Olsen and Ed Marion
---
Overview • Galleries (See Galleries) • Monthly Themes • Field Trips • Speakers • Projects